BGIS Receives Two Indigenous Engagement Awards
On November 20, 2022, BGIS was proud to receive two Indigenous Engagement awards from the Real Property Institute of Canada
Department of Justice, Smudging Room, East Memorial Building, Ottawa
The Department of Justice (Justice), PSPC and BGIS completed, in March 2021, a project for a Smudging Room for Justice at the East Memorial building in Ottawa. Justice, PSPC and BGIS collaborated to create and build this Indigenous space.
The smudging room, through collaboration and consultation, became more than just a smudging room but a public space for indigenous reflection, wellness, diversity and inclusion. It became a welcoming public space for all. This project reflected the opportunity to advance reconciliation and renew the relationship with Indigenous team members and artists.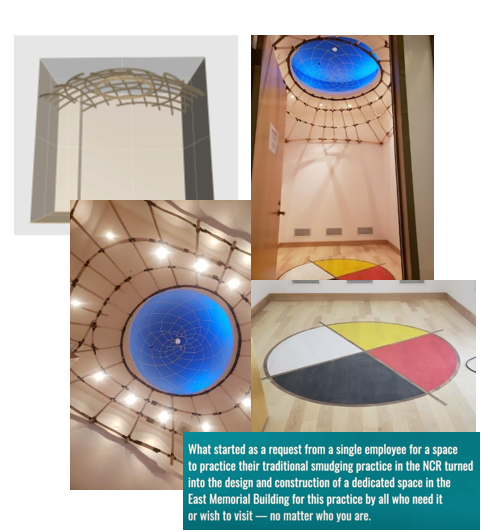 The project also reflected the opportunity to integrate Indigenous design and art into real property and material assets where federal actions can reflect and intersect Indigenous interests and perspectives.
The project involved many indigenous and non-indigenous stakeholders. It started with engagement with the BGIS Director of Indigenous engagement, who helped guide the Indigenous perspectives of the projects. Next, it included consultations and collaboration with stakeholders from PSPC, Justice, BGIS and the Architect. Following these extensive consultations, the room was designed to be accessible and inclusive while ensuring Indigenous cultures and traditions were respected.
Henry Larsen–RCMP G Sewer Line Drainage Slope Study and Repair, Yellowknife
BGIS has undertaken, on behalf of the Government of Canada, an aggressive Indigenous Engagement program, which is led by the National Director of Indigenous Engagement and supported by all departments and the leadership team. A cornerstone of the process has been actively expanding our roster of Indigenous vendors over the past three years. This has involved a thorough search of the Indigenous Business Directory and the Certified Aboriginal Business listing from the Canadian Council for Aboriginal Business (CCAB). This process also involves actively communicating with the potential Indigenous vendors to determine which ones are best suited to proceed to the qualification process (security, compliance, etc.).
In July 2021, the main sewer pipe supporting the RCMP building in Yellowknife shifted. Subsequently, the facility experienced plumbing issues, resulting in the need for weekly steaming and daily flushing of the lines. BGIS, as the RP1 service provider of the Government of Canada, engaged an Engineer and Contractor to re-establish the grade lost with the current piping configuration (because of the pipe dropping). The project's success depended on returning drainage to proper functioning without flushing and steaming protocols.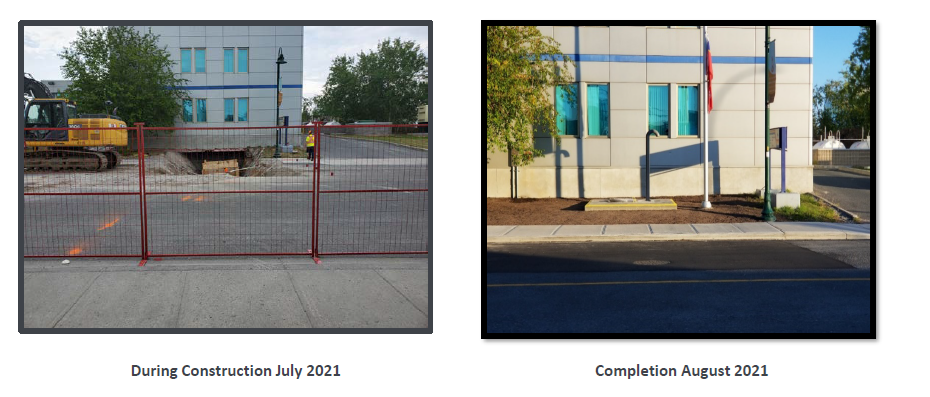 The work was awarded to Kostiw Construction, located in St. Francois Xavier, MB, within the territory of Treaty 1. They are 100% Indigenous-owned. The project was completed on August 27, 2021 by Kostiw Construction on time and within budget.