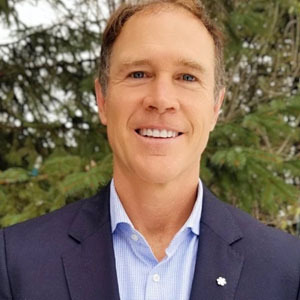 It is with excitement and incredible pride that BGIS announces the recognition of our CEO, Gordon Hicks, as a 2020 Order of Canada recipient.
The Order of Canada is the "cornerstone of the Canadian Honours System and recognizes outstanding achievement, dedication to the community, and service to the nation." Gord is being honoured for his environmental leadership in the real estate industry, for his mental health advocacy, and for his community engagement.
Providing leadership to our organization for over 20 years, Gord has been the driving force behind our passion for Living Sustainability. With responsibility for a global real estate footprint of more than 400 million square feet, including more than 200 million square feet in Canada, Gord has led our charge to become an industry leader in energy, waste, greenhouse gas (GHG), water and hazardous materials reductions in our clients' real estate portfolios. Our passion and drive have contributed to many of our Corporate & Public sector clients' achievements of their Environmental, Social and Economic Sustainability goals.
As an organization, the BGIS team is proud of the work we do to show that we truly care for each other and our communities. Enabled by Gord's sponsorship, our support takes the form of direct contributions, event sponsorships, fundraising events, and the voluntary actions of our team members. Gord has personally demonstrated compassion, resiliency and his capacity to translate vision into reality, along with his family, in founding and leading Cam's Kids Foundation, enabling youth who are struggling with anxiety to reach their full potential and realize their dreams.
As a BGIS family we offer Gord our heartfelt congratulations and extend our sincere appreciation for his unwavering leadership and inspiration.